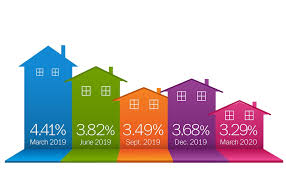 Mortgage Rates Drop to 3 Year Lows. Inventory Remains Low. March is in Like a Lion!
Recent global events have helped push already competitive mortgage rate to even lower levels. Mortgage rates which are generally influenced by long-term bond rates started to edge downward in advance of the Federal Reserve's announcement on Tuesday to lower the Federal Funds Rate. Global markets have recently responded to news regarding the spread of Corona Virus and the uncertainty led to the Fed's surprise rate cut.
Low mortgage rates typically yield more active buyers with higher spending power. Additional buyers in the pool may apply greater pressure to the already low existing stock of housing. This could lead to continued growth in sale prices and lowered inventory. If you're a seller this could lead to higher prices and better terms https://www.condoguy.com/home-worth/. If you're considering buying, this means that you could be pre-approved for a higher purchase price than just one week ago https://www.condoguy.com/contact-us/. If you're a homeowner and not considering moving, you may want to look at refinancing based on these historic low rates.
At the Condo Guy Team, we love talking real estate! If you're considering selling, buying or refinancing we'd be happy to discuss over coffee and provide a free home valuation, seller or buyer consultation, or put you in touch with fantastic local lenders. Please contact us at anytime.